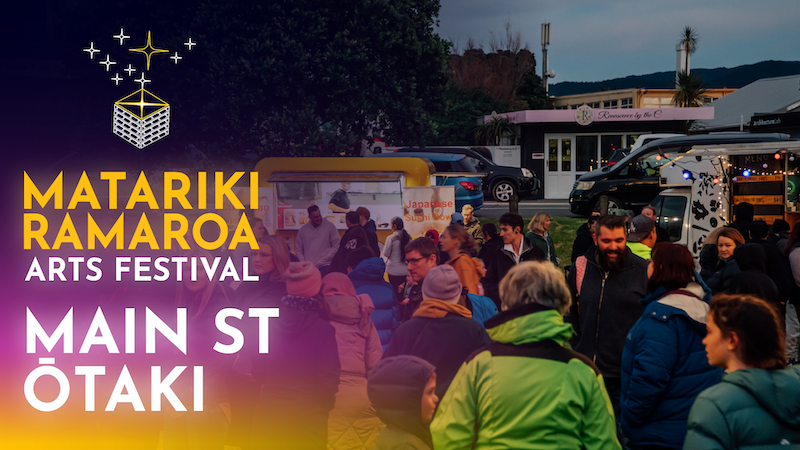 UPDATE:
Kia ora koutou e te iwi! Matariki Tapuapua – the light drizzle is part of the time if Matariki meaning the pools of water that sit on the whenua.  Come to Matariki Ramaroa Main Street event in Ōtaki tonight. We here at Maoriland look forward to to seeing you here! 
Matariki Got Talent – 4:30pm-6:30pm at MEMORIAL HALL
Live music performances – 5pm – 9:30pm at the MĀORILAND HUB
Taonga Pūoro – 5:30pm-6:30pm in TOI MATARAU GALLERY
Fashion Show – 7pm-7:30pm at MEMORIAL HALL
Disco and inflatable games – 7:30pm-9pm at MEMORIAL HALL
Food trucks will be lined up along the footpath for your convenience.
A Whānau Feast-ival for Matariki!
Kia hiwa rā! 
Bring the whole whānau along for food truck, light sculptures and live performances filling Ōtaki's Main Street. 
Dine together at one of our many shared tables among glowing lights, new live musical talent and artful street performances or enter the whānau in Matariki Got Talent, be in for a chance to win $250 by taking part in the Matariki Runway Show or enjoy a kanikani at the Matariki Disco.
Performances from:
Pukenga
We are all pūkenga for the wānanga immersion programme and stalwarts in the Māori medium and kaupapa music.
Sianne
Sianne Dougherty (Tūwharetoa, Kāi Tahu) is blazing her way as the new wahine force on the Aotearoa NZ music scene. Sianne brings the modern sound with old soul R'n'B & Reggae and a voice that is incomparable. Her tone rich & smooth bringing power with a maneuverability to reach notes with ease. Sianne will bring silence and attention capturing the hearts of soul seekers as she takes you on a journey following her dreams and aspirations in music.
Nah Bo
NahBo is a character designed by te Whanganui-a-Tara-based performer Taranaki Ah Young-Grace (Ngāti Ruanui, Ngāti Tūwharetoa, Ngāti Porou, Sāmoa, China, Ireland, Scotland, Germany, and France) who they say is an Astronesian native traversing and lamenting the realities of colonisation and capitalism after being shot back over 300 years in time into the body of a human born in 1993. The sonic aesthetic of NahBo relies heavily on Taranaki's time studying vocals in the jazz performance course at the University of Auckland as well as their love for neo-soul, indie rap, hip hop, DIY shit, and sticking it to "the man".
Half/Time
HALF/TIME is a Māori centred post-punk band from Hamilton, Aotearoa featuring Wairehu Grant (Ngāti Maniapoto) on guitar and vocals, Cee (Te Rarawa, Ngāti Kahu ki Whangaroa) on bass and Ciara Bernstein on drums. Together they perform emotionally charged songs addressing decolonisation, structural racism and cultural resilience. Their music intertwines lyrics in English and te reo Māori with heavy riffs and driving rhythms.
There's so much to enjoy and take part in together at 2023 Matariki Ramaroa! 
Saturday 8 July
5 pm – 10 pm
Main Street, Ōtaki
This event is run in partnership with Kapiti Coast District Council