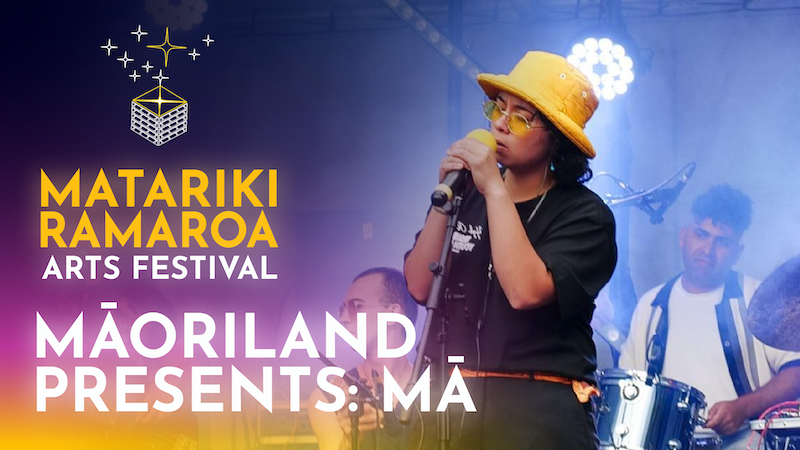 MĀ – the must see music project of Maarire Brunning (no Ngāti Potou, Ngāti Kahungunu, Ngāti Raukawa me Tūhoe) produces dreamy soul soundscapes with deep roots in trip hop, 90's R&B, groovy laidback rap and heartfelt pop vibes. 
See MĀ at the Māoriland Hub this Matariki with her 8 piece  band including a DJ, horns, flute, as well as the usual instruments and a string of vocalists. 
This event is licensed with under 18 allowed with parental supervision.
Friday 7 July – 8pm
Māoriland Hub, 68 Main St, Ōtaki
ABOUT MĀ
"MĀ is a respectable member of society by day & brazen fire bender by night MĀ continues to create music for the people, working towards her second album & some"
MĀ began her musical lifestyle with her debut album Breakfast With Hades which she wrote, produced, recorded & mixed at her home studio in 2019. Her musical influences stem from her day job as a ranger incorporating sounds from te taiao, making it weird, then layering her vocals in the background as an instrument. Her lyricism opens portals with her deeply personal perspective, carried by emotion and encourages listeners to do the same, safely. These words are then uplifted with her casual ability to switch between singing and rapping. 
In 2022 she was asked to join Avantdale Bowling Club on their 2022 TREES Tour as the supporting act & was part of The Major Flavours Showcase opening for Ice Cube in 2023. 
Her music is now being discovered by people all around Aotearoa. With a recent debut album 'Breakfast With Hades' out on Meetinghouse Records come and check this amazing new artist out.  
ABOUT MĀORILAND PRESENTS
Māoriland Presents is a series of intimate live music performances held at the Māoriland Hub in Ōtaki where we speak with artists as well as host their performances. Perfect for new music lovers, discoverers and fans see the artist in a unique way unlike any other wrapped in the incredible atmosphere of Māoriland.