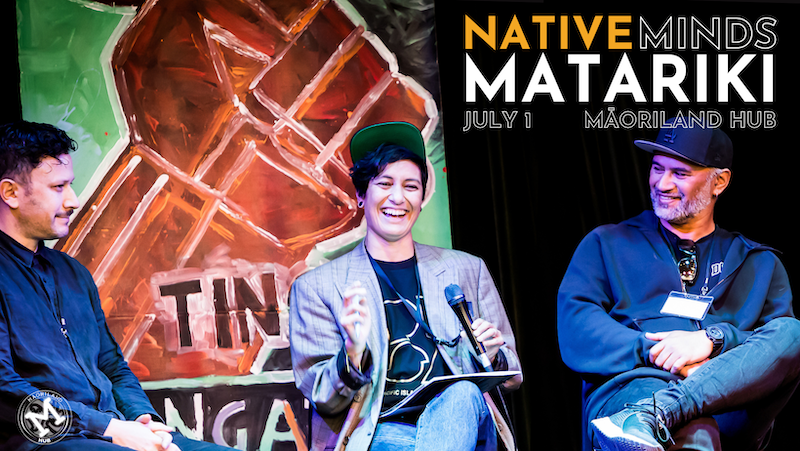 NATIVE Minds is a series of interactive discussions hosted by Tainui Stephens that examine how Indigenous thinking shapes our existence and our view of the world. It is an accessible wānanga for all of a curious mind.
FREE TO ATTEND. REGISTER  YOUR INTEREST HERE
Maramataka & Climate Change with Māori scientist and MetService Pou Arahi, Francene Weneti & Advocate and practitioner of living by the indigenous lunar calendar, Meretini Bennett Huxtable
10:30 am – 11:45 am
The realms of Papatūānuku and Ranginui are under threat from the headlong rush of human societies across the globe to pursue economic growth at all costs – as if that alone will solve the many problems that threaten our existence. Indigenous attitudes towards our environment may be the last best chance we have to save ourselves.
Huakina with Artists & Artivists Natalie Jones, Louie Zalk Neale & Melanie Tangaere Baldwin
12:30 pm – 1:30 pm
"Huakina! Huakina! Huakina te tatau o Matariki e" is a call for artists who approach their work with a creative vision and socially provocative intent. Artists of all disciplines face daunting new calls to action – even from artificial intelligence that is now moving into the creative space.
Innovation with Data advocate Ngapera Riley
2:30 – 3:30 pm
In a post-covid world of increasingly serious issues for humankind we seek new ways of being indigenous. Our environment, our housing, our cultural and social development require innovation to function in order for the people to survive. One of the threats to te ao Māori is disinformation and the loss of control of our data. We need a new spirit of innovation to protect sustainable inter-generational growth.